February 2, 2022 News
Cryptocurrencies are extremely volatile and their value can increase or fall significantly in a very short time. How to invest in cryptocurrencies and not burn one's fingers? Investments in loans secured by Bitcoin on Bondster.cz offer an alternative.
Cryptocurrencies at their lows
The majority of well-known cryptocurrencies cratered in January. On Monday 24, Bitcoin fell below USD 34,000 while the second most famous cryptocurrency, Ethereum, was trading at around USD 2,200. In November last year though, both Bitcoin and Ethereum reached their all-time highs of nearly USD 70,000 and USD 4,800 respectively.
Cryptocurrencies have once again demonstrated how volatile this new market is and that their value can fluctuate dramatically in a very short time. For people who invest in cryptocurrencies directly, the current situation can be very painful and incur a significant financial loss. In January alone, Bitcoin dropped more than 20%.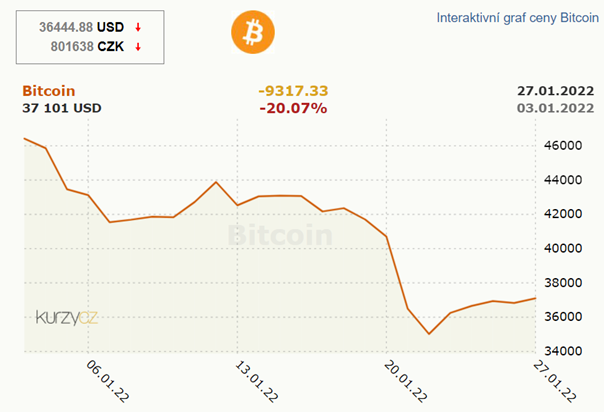 Those who invested in Bitcoin 3 months ago are now down more than 40% on their investment.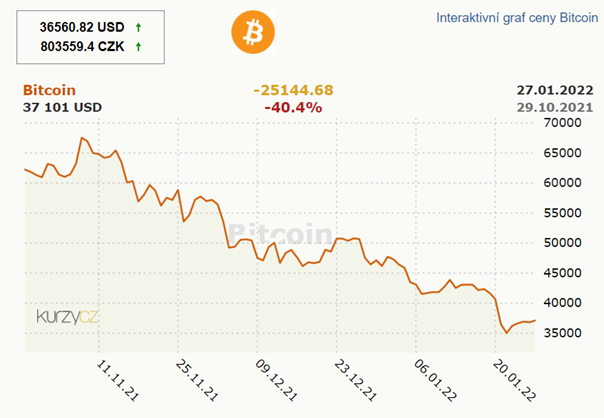 Investing in Bitcoin-secured loans presents a safer option
Investors who want to invest in cryptocurrencies and achieve a fixed yield with minimum risk can invest in Bitcoin-secured loans on Bondster. The fixed yield exceeds 10% p.a. and is independent of market fluctuations. Even if the price of Bitcoin is plummeting as it is now, the invested money is protected.
How Bitcoin-secured loans work?
Bitcoin-secured loans have an LTV * (Loan To Value) ratio between 50-70%. If Bitcoin price drops, the borrower can increase the value of their collateral to maintain the minimum specified LTV. Should they fail to do so, the loan provider, Czech company Acema, immediately sells the pledged Bitcoin and pays investors off. This is one of the undeniable advantages of cryptocurrencies – Bitcoin, unlike other types of collateral (e.g. real estate), can be immediately and easily converted into cash. Moreover, the loans feature a buyback guarantee which applies both to the event of default as well as an early termination. Therefore, investors will lose neither their money nor interest, which will always be paid to them in full.
Note: * LTV (Loan To Value) indicates the ratio between the amount of the loan and the amount at which the pledged Bitcoins were valued at the time the loan agreement was concluded. The lower the LTV, the more secured the investment is. For comparison: mortgages in the Czech Republic are provided up to 90% of LTV.
Long-term stability and fixed yield
An undeniable advantage of investing in loans secured by Bitcoin is their stable yield. Let's look at an example of investment in a Bitcoin-secured loan with a fixed annual yield of about 10% and a direct investment in Bitcoin. The upward blue curve in the chart shows investment in Bitcoin-secured loans while the fluctuating orange curve shows direct investment in Bitcoin over the last year.
The principle of investing is simple
The method of investing in loans secured by Bitcoin does not differ from other types of investments on Bondster. The only difference is in how the loans are secured; instead of movable or immovable property, borrowers pledge their Bitcoin. The length of investment is 1–12 months. Thanks to this, investors can quickly appreciate their savings and then reinvest them with a fixed yield of 10-11%.
Author: Michal Rázga
---
Share the article